***WARNING!!!
This is a longer post...but it has a

sweet

ending!!! (tutorial/recipe)
Ahh
, August! The time when retailers completely skip Halloween and Thanksgiving and jump right into Christmas!
Ugh..
.
I still say it's too soon, but when it really boils down to it, I am
ALWAYS
running around at the last second trying to do my Christmas preparations. The shopping, the decorating, blah,
blah
,
BLAH
! This year, I am
determined
to get a head start on things. I wanna create some Christmas traditions, memories, and really have my kids appreciate the true meaning of the holiday.
We, with my extended family (nieces, nephews, brothers and sisters, parents), have a couple of traditions we do every year. One is the Bethlehem Dinner. We get together on Christmas Eve (or a day or two before) and we sit on blankets and eat what maybe they would eat at the time the Savior was born. For example:
Fish (we do tuna w/lemon, salt, & pepper for taste)
Cheese (technically it should be goat cheese, but usually it's cheddar)
Grapes
Olives
Flat Bread
Etc....
We do this all by candlelight. The kids love it! If there is ever any mention of it
possibly
not happening, there is great wailing, renting of clothes and so forth.
After the dinner, all the little cousins (our kids), dress up and act out the nativity. We read the story from Luke in the Bible and sing Christmas songs. Now, my parents have 38
grandkids
, so you can
BELIEVE
this is quite an undertaking, even if only 1/2 are there!
I love this tradition, because we get to enjoy the company of our family, and the children are reminded that Christmas is more than just the presents, lights, and candy. It's about the birth of Jesus Christ, our Redeemer and Lord.
Another tradition that I started back when my husband and I were first married, was bringing goodies to our neighbors and friends. It helps me get into the GIVING spirit of the holiday. But not just
any
goodies. They are
tasties
I make with my own 2 hands. I've made strawberry preserves, homemade apple pie filling, the traditional cookies...but the thing that I've had people go ape crazy for, are my
TRUFFLES
!
Mmm
...
nothin
' says
lovin
' like a box o' homemade chocolate!
Now, I got this recipe from what my sisters and I call the Red Cooking Bible (mine is pink), or the
Better Homes and Gardens Cookbook
. I tell my friends that they
can
make it on their own, but most people don't or won't. So, I will continue to use it as my own. I've tweaked it here and there and tried a couple different things, but here is the basic recipe w/ some of my tweaks:
Chocolate Truffles


1 12-oz. package of *semi-sweet chocolate pieces, or 1 11 1/2-oz. bag of milk chocolate pieces
1/3 c. whipping cream
1/2 tsp. **vanilla extract
12-oz. ***chocolate flavored candy coating, cut up

*I use

Ghirardelli

or

Guittard

chocolate. The better quality chocolate, the better the truffles. You can also substitute for white chocolate. Experiment! Make it your own! :)
**I change this up sometimes and use other flavor extracts like peppermint, orange, raspberry to change the flavor of the truffles


***Wilton candy melts work the best! They melt fast and smooth.

1. Line a baking sheet with wax paper; set aside. In a medium saucepan combine chocolate pieces and whipping cream. Cook and stir constantly over low heat until chocolate melts. Remove saucepan from heat; cool slightly. Stir in vanilla. Beat truffle mixture with an electric mixture on low speed until smooth. Drop truffle mixture by teaspoon onto prepared baking sheet. Chill about 20 minutes or until firm.


***I use a double boiler for melting chocolate. I usually cool the mixture in the fridge until it is slightly more firm and use an extra small cookie scoop (similar to this one) to spoon the mixture onto the baking sheet. This gives it a more uniform look and this way I can skip
the first part of
Step 2
. I then put the truffle balls into the freezer until they are hard.***

2. Shape truffle mixture into balls; freeze for 30 minutes. Meanwhile, in a heavy saucepan melt candy coating over low heat, stirring constantly until smooth. Using a fork, quickly dip truffles, one at a time, into coating. Draw fork across rim of the saucepan to remove excess coating. Return truffles to prepared baking sheet. Let stand for about 30 minutes or until coating is set.

(If there are imperfections in your dipping, don't fret! the DRIZZLE will cover them up! :)
***At this time you can drizzle candy melts over the truffles to give them a decorative touch (and hide imperfections). I will use different colors depending on the flavor of the truffle, i.e red=raspberry, yellow=lemon, orange=orange, etc... I have also used coconut, lemon zest, crushed peppermints, nuts...
I f you are not going to eat these right away, they can be refrigerated in a covered container for 2 weeks.
I place my truffles inside small cupcake cups and box them up. Wilton makes candy boxes. I can fit 16 truffles of this size into a 1/2 lb. box. I also decorate the outside of the box...It really gives it that extra love! ~
♥
♥
♥
~
Well, that's it in a nutshell. If you have any questions, please don't hesitate to ask! Have fun, and don't get too sick eating so many truffles!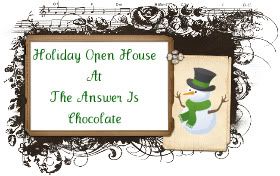 And
these
other great parties!